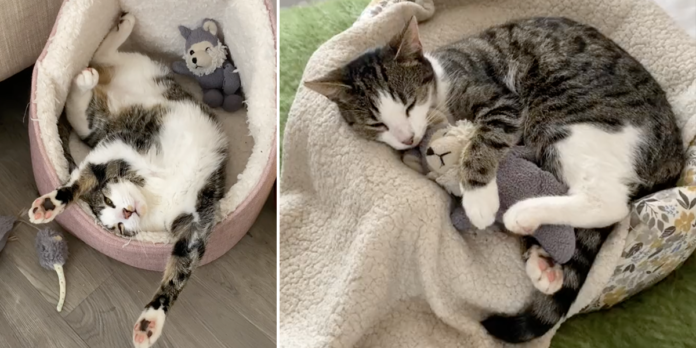 TikToker Shanan Woods from the UK shared some adorable videos of her cute kitten Winnie. The kitten has a favorite stuffed toy, a grey wolf that she carries everywhere she goes. We see her cuddling the wolf like a child would hug a teddy bear. Woods had never seen a cat bond with a toy like this but says it's "the sweetest thing."
Winnie and Her Beloved Wolf
Winnie keeps the stuffed toy nearby in her cat bed. But when she leaves, she carries it with her across the sofa, up the stairs, and up on Mama's bed. It's so cute, and the TikToks reached millions of views (see video below).
As Winnie grew up, she never stopped bringing her stuffed toy along with her. These two are friends for life, and Woods says she will never take it from Winnie.
"A love story. Just a kitty and her wolfy toy 🐺"
Big and Small Cats and Their Stuffed Toys
Such a close bond with a toy is quite common for dogs but maybe not seen as much for kitties, as reflected by some comments. It's familiar for those who foster kittens, never gets old, and is always adorable.
We shared the story of a tiny foster kitten from LA who bonded closely with a grey stuffed cat toy. And even rescued big cats like bobcats will bond with stuffed toys. When rescuers saved Summer the bobcat, she bonded closely with her Llama toy.
Rescuers often introduce kittens to a stuffed toy, which is particularly important if they are separated from their mothers. As always, it's best to keep the Mama with her litter, but when that can't happen, a stuffed toy helps them as they instinctively cling to her warmth. 
Foster providers often introduce kittens or puppies separated from their mothers to stuffed animals with a heartbeat, such as the Calmeroos kitty or puppy. An inserted heat pack also gives the feeling of their Mama's comforting presence. 
Many asked if Woods would be adopting a playmate for Winnie. Certainly, adopting bonded pairs is a great idea. Kittens keep each other company and will expend their boundless energy playing with one another. So, it tends to be much easier for their humans to keep up with their antics.
Winnie's Nickname is Little Wolf
Winnie looks like a baby carrying her stuffed animal, and Woods gives her lots of baby names. One of her nicknames is "Little wolf," as she carries her even smaller wolf along.
Research has confirmed that using pet names for pets or people can indicate stronger relationship bonds. 
For more of Winnie and her favorite wolf, you can follow on TikTok.