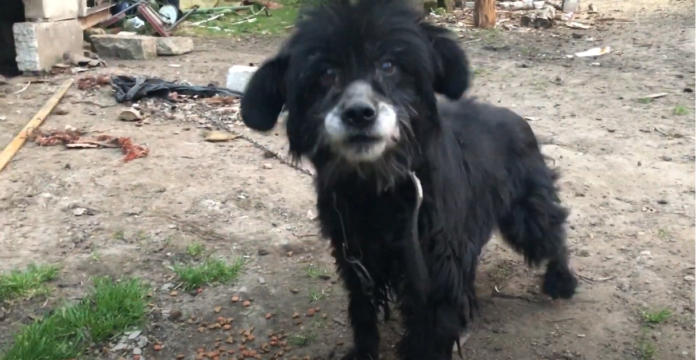 Another phone call from a desperate witness, another intervention… The team at the animal welfare organization, "Save Our Strays," received a call from a concerned citizen in the vicinity of Złotoryja. They reported seeing a tiny, black ball that was begging for help with its eyes. The team knew they had to act fast and set out to rescue the helpless animal.
Upon arriving at the location, they found a small black dog, barely reaching the height of a man's knees, chained to a post. The little one was emaciated, with protruding ribs and a dull coat. The team could see the sadness in her eyes and knew that they had to act fast.
Instead of love, Betty, as they later named her, got a chain. She didn't deserve food, water or decent shelter. Thirst, hunger and itching were constant elements of her existence. The team knew that they had to break the chain and give Betty a chance at a better life. They approached the owner, but he was unwilling to give up his "property," and he had no intention of providing her with the care that she needed.
The team knew that they could not leave Betty in this condition, so they broke the chain and took her into their care. They immediately took her to a vet for examination, and the diagnosis was not good. Betty was emaciated and had an extensive skin disease. The vet confirmed that Betty needed support for diagnostics, skin treatment, sterilization and vaccinations.
Unfortunately, Betty could not count on her owner to provide her with the care she desperately needed. For him, she was just a dog, a possession to be used for his own purposes. The team knew that they had to fight for Betty's happiness and well-being.
The cost of Betty's medical treatment was significant, and the organization needed financial support to cover the expenses. They launched a fundraising campaign, asking for donations of any amount to help cover the cost of Betty's treatment.
The response was overwhelming, with people from all over the country donating to help Betty. The organization was able to provide her with the medical care she needed, including a complete checkup, medication for her skin condition, vaccinations, and sterilization.
As Betty's health improved, her true personality began to shine through. She was a sweet and affectionate dog who loved to cuddle and play. She quickly became a favorite among the volunteers, who showered her with love and attention.
After several weeks of care and rehabilitation, Betty was ready for adoption. The organization received many applications, but they were careful to find the perfect home for her. They found a loving family who had experience caring for rescue dogs and who were willing to give her the time and attention she needed to adjust to her new home.
Today, Betty is a happy and healthy dog, enjoying the love and care she deserves. Her story is a testament to the importance of animal welfare organizations and the vital role they play in rescuing and rehabilitating animals in need.
But there are still many more animals like Betty out there, waiting for someone to come to their rescue. The team at Save Our Strays urges everyone to report cases of animal abuse and neglect, and to support their local animal welfare organizations in any way they can. Every PLN 5, 10 or 20 is of great importance and can make a difference in the life of an animal in need. Together, we can make a difference and ensure that every animal receives the love and care they deserve.